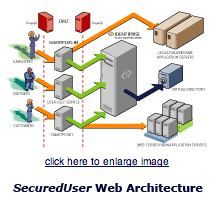 For Only Web Applications
Your business is driven by Web applications for your employees and your customers. You are concerned about ease of management of these relationships while improving and simplifying access.

The Web Edition of SecuredUser gives you the tools you need to secure your Web-facing business applications. As you add new applications to expand functionality and service, it provides the capability to expand to internal legacy and external partner or customer applications.

SecuredUser Web Edition includes the following elements:
Policy Server
Virtual Directory
Certificate Server
User Self-Service
Delegated Administration
Web Services
Smart Plug-in
See the SecuredUser Architecture Overview for more details on each of these architectural elements.