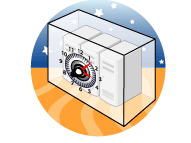 The Identity Management Challenge
Today's business practices require organizations to make their applications and information systems ever–more accessible to an increasing number of users - whether employees, customers, or outside partners. Such accessibility, however, must be achieved without breach of confidentiality or network security.
This need for controlled access has resulted in an explosion of digital identities, such as usernames and passwords, that are burdensome for the user, costly to administer and support, prone to security breaches, and practically impossible to audit.
The challenge of identity management is clear, and it requires that the organization take a comprehensive approach to granting, modifying, and revoking the access rights given to an individual, as well as auditing the use of such access rights.
Uncompromising Identity Management
One person, one identity, one governance system. A simple idea that changes everything. But one that traditional piecemeal solutions, even "suites", do not deliver. And what may ultimately be delivered comes at a high cost, in time and disruption to your applications and operation.
SecuredUser™ takes a different path, delivering the combined advantages of:

Complete Identity Life Cycle Management
Comprehensive identity administration, application access control, and audit management functionality, built on a single, integrated platform. This makes for unique cohesiveness in managing the entire life cycle of a digital identity.
A Single Identity, with True, Enterprise-Wide Reach
One system spanning all users and nearly all applications. SecuredUser delivers true single sign-on to all application types, whether Web-based, client/server, or legacy mainframe.
Ease of Deployment
SecuredUser overcomes traditional barriers to identity management projects, deploying rapidly, non-disruptively, without changes to legacy code or directories, and with radically less risk and complexity than competing approaches.