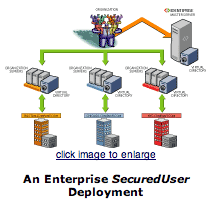 Non-intrusive Tools
Knowing and managing who has access to information has never been more critical. To address growing regulatory pressures and increased sensitivity toward protection of confidential information, organizations must establish control mechanisms that are comprehensive and enterprise-wide.

But overcoming years of in-house application development and the proliferation of technology silos requires an innovative approach. It is this complex, heterogeneous environment that SecuredUser was specifically designed to tackle.
"The SecuredUser solution is unique in its out-of-the-box support for web, client-server, and host-based applications. The ingenuity in its non-intrusive design substantially simplifies implementation; no application code has to be modified and no existing directories have to be replaced in order to achieve enterprise single sign-on."

– Evan Bauer, founding analyst of Giga Information Group and former CTO of Credit Suisse First Boston.
The Enterprise Edition of SecuredUser gives you the tools you need to secure access to all corporate applications and ensure all individuals using them are authorized for access.

SecuredUser Enterprise Edition includes all of the core elements of the solution:
Policy Server
Virtual Directory
Protocol Support Modules
Certificate Server
User Self-Service
Delegated Administration
SmartClient
Smart Plug-in
Integrated Login Service
See the SecuredUser Architecture Overview for more details on each of these architectural elements.