Security…Made Simple and Affordable
Security monitoring is the alarm system for your networks. Monitoring your infrastructure is often a complex and expensive undertaking, since you need to train staff to be able to respond 24 hours a day. Does this mean you have to forego the benefits of an intrusion detection system? Of course not.

Managed Security Services provide you with an expert, 24x7 extension of your own internal staff, and ultimately give you more control over your infrastructure than you ever had before. In the meantime, your own employees can focus on building your business, rather than worrying about intrusion attempts.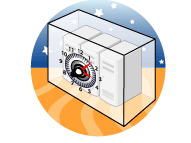 Your Assets Secured